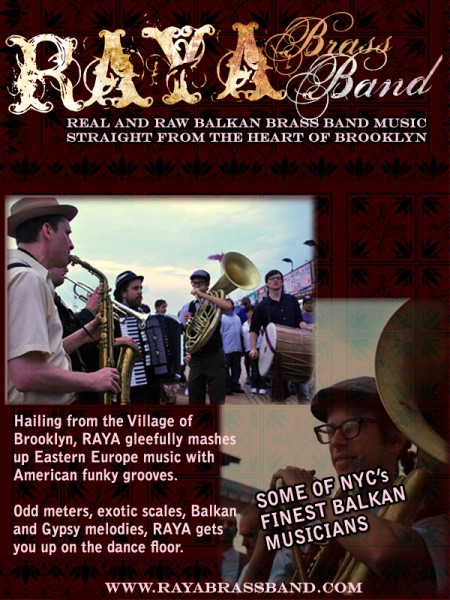 We're travelin to Pittsburgh, Philly, Baltimore, Winchester, and Washington, DC on June 16, 17, 18, 19 and 20 and bringing the Raya Brass Band sound to new audiences, new cities, new venues. Tell your friends!
-Wednesday 6/16 – Pittsburgh – 9 pm
Howler's Coyote Cafe
Venue: http://howlerscoyotecafe.com/
$8 adv/$10 door. 21+
4509 Liberty Ave
Pittsburgh PA 15224
Map: http://bit.ly/aTaRy7
412-682-0320.
-Thursday 6/17 – Philadephia – 7 pm-9:30 pm
with Rhinoceri Trio
Green Line Cafe
Venue: http://greenlinecafe.com/
$5 at the door
4426 Locust St
Philadelphia, PA
Map: http://bit.ly/aIkHnV
215-222-3431
-Friday 6/18 – Baltimore – 10 pm to 2 am
5th Floor H&H
Venue: http://bit.ly/aHTsb4
$5-$10 sliding scale
benefit for the Baltimore Free School
and the Free School website
405 West Franklin St
Baltimore, MD
Map: http://bit.ly/cbvxHP
-Saturday 6/19 – Winchester, VA
Private Wedding
We're up for a brunch gig that day and/or Sunday in the area
-Sunday 6/20 – Washington, DC – 9 pm
Slaviya Restaurant
Venue: http://www.slaviya-dc.com/
$10
2424 18th St NW
Washington, DC
Map: http://bit.ly/9nqC7u
202-464-2100
If your folk dance club, restaurant, coffee shop, clown supply store, or rubber band factory would like to book us during this tour on our off afternoons before these gigs, give a call to 917-497-7852 or email matthewfass@gmail.com.