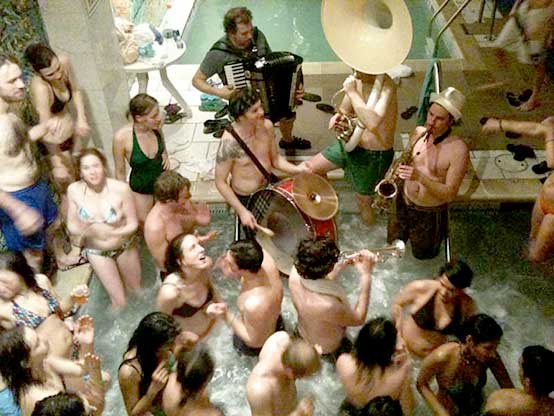 Saturday, December 15: Raya Brass Band In Hot Water at the Steamy Dance Party at Russian Baths
Yes, this is THAT legendary party at the Russian baths.
7pm-2am, 21+ with ID (25+ suggested)
Brooklyn Banya, 602 Coney Island Ave bet Beverley Rd & Ave C, Kensington, BK (map)
2 blocks south of Prospect Park/30 min from midtown–NOT in Coney Island
Q to Beverley Rd, cross Marlborough/15th St & walk 5 blocks, left on Coney Island Ave
Save $10 on two tix with the discount code "raya". Offer expires at midnight on Wed., Dec 12. Buy tickets | Event on Facebook
"Best (and Only) Russian-bathhouse Dance Party" – Village Voice "Best of 2006"
"A night of steamy fun" – TimeOut New York "Your Perfect Weekend" pick
"Epic"…"One of the coolest cheap activities posted to our recession-proof list" – Brooklyn Based
Break out your bikini, swim trunks, flip flops and favorite floaty and get splashy in the pool with Raya Brass Band at the Russian bath house on Coney Island Avenue. You will see the words Banya written in Cyrillic on the outside, that's how you'll find the place. Raya Brass Band will playing sets at 10 pm and midnight.
We will have the newly remodeled & sparkling clean baths to ourselves, with a few hand-picked professionals on hand for the optional platzas and massages. Enjoy: Russian, Turkish and Swedish steam rooms, jacuzzi and cold plunge pool; poolside dance floor; rooftop smoking deck; hookah lounge and chillout rooms; authentic and delicious Russian food in a private restaurant room with a view of the dance floor.
Raya Brass Band blasting and & ethno-mesh DJs till 2am. Pierogies for everyone. There will be an open vodka bar 9-10pm.
Hey, this party is fun. You should come! It's definitely one of the more unusual events in NYC and the weather and the season is perfect for svitzing to the Balkan madness that is Raya Brass Band. Is this some kind of weird holiday party? Maybe it is. The best one you've ever been to.
Buy tickets | Event on Facebook | And remember to use the code "raya" to save $10 off the price of two tickets.
Related show