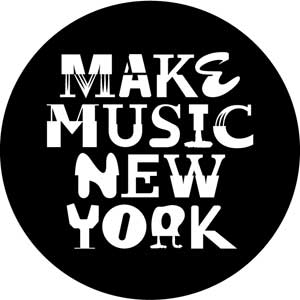 Check us out in front of Bubby's on Main St in DUMBO on Monday June 21 @ 7 pm as part of Make Music NY 2010.
FREE MUSICAL PROGRAMS IN DUMBO JUNE 21: 10 STAGES OF FREE CONCERTS AS PART OF MAKE MUSIC NEW YORK.
New York, NY – Make Music New York, described by city officials as "one of the largest musical events in the city's history," is back for a fourth year of free concerts in public spaces throughout the five boroughs of New York City, all on the first day of summer. On Monday, June 21, from 10 in the morning until 10 at night, musicians of all ages and musical persuasions — from Hip-hop to opera, Latin jazz to punk rock — will perform on streets, sidewalks, stoops, plazas, cemeteries, parks and gardens. Alex Ross of The New Yorker called last year's installment "impressive – more than 800 events across five boroughs. Subversivemusical disruptions invite urban dwellers to abandon their tight routines and let the rhythms of the city take over."
This year, for the first time, there will be ten stages of music in the DUMBO neighborhood of Brooklyn. All performances are free and outdoors and will happen "rain or shine." Whether you are young or old, in a stroller, a bicycle or on your feet, music will surround you from every corner of Dumbo — and ring in summer. Be prepared for a day of acoustical treats!
SCHEDULE – ALL PERFORMANCES BELOW ARE IN DUMBO, BROOKLYN
The Archway – under the Manhattan Bridge –
1-1:45pm – Lucky Chops brass band – blues/hip hop/jazz
2-2:45pm – William B. Johnson's Drumadics – percussion and horns
3:15-4:45pm – DJs from halcyon the shop – DJ dance music
5-5:45pm – Mass Appeal Percussion: Mantra Percussion – percussion with electronics
6:30-7:15pm – French Horn Nation – french horns
7:30-9pm – DJs from halcyon the shop – DJ dance music
–
Dumbo Arts Center – 30 Washington street –
1:30-2:15pm – Xenia Rubinos – experimental/pop/world
4:30-5:15pm – Threefifty Duo – classical guitar duo
6-6:45pm – Jody Redhage and Fire in July** – classical/pop chamber vocal
7:30-8:15 – Nathan W. McKee – live electronic
–
The Main Street portion of Brooklyn Bridge Park –
10-10:45am – Shake, Rattle & Roll** – hands on family drumming (FAMILY PERFORMANCE)
11:30-12:15 – Oran Etkin: Wake Up Clarinet! – children's music/jazz (FAMILY PERFORMANCE)
1-1:45pm – Famous Accordion Orchestra – quartet, from Bach to Kraftwerk
2:30-3:15pm – Threeds – oboe trio
4-4:45pm – Valerie Plauch – participatory singing
5:30-6:15pm – UpBeat NYC** – kids/world/jazz/classical
7-7:45pm – Shinbone alley stilt band – – jazz band on stilts
8:30-9:15pm – William B. Johnson's Drumadics – percussion and horns
–
Bubby's – 1 Main Street –
12-12:45 – Rona Figueroa – rock/alternative/indie
1-1:45pm – Dylan Rice – singer/songwriter
6-6:45pm – Lale Sayoko and Kenji Williams – belly dance with violinist
7-7:45pm – Raya Brass Band** – world music
8-8:45pm – Pete Sturman – singer/songwriter
–
Galapagos – 16 Main St –
2pm – Scott Alexander – nonrepetitive pop
3pm – The Mighty Third Rail – spoken word/hip hop
4pm – Joanna Parson – comedy singer/songwriter
5pm – copal – violin and cello / world rhythms
–
Jacques Torres Chocolate – 66 Water Street –
11-11:45am – Floanne – French chansons
12:15-1:15 – Hilliard Greene – jazz/bass
1:30-2:30 – Fiona Crawford – singer
3-4pm – Daniel Reyes Llinas – jazz quartet
5-5:45pm – Vlada Tomova and Chris Rael – Balkan
6:30-7:15pm – Issa Cabrera** – jazz/latin/world
–
Bargemusic – 2 Old Fulton Street –
7-8:30pm – Voxare String Quartet – instrumental classical
–
Pier one – Brooklyn Bridge Park –
12-12:45 – Carolyn Enger – classical piano
1-1:45pm – Tomasz Halat – classical piano
2-2:45pm – Opera for Humanity – opera
4:30-5:15pm – Gamelan Son of Lion – Javanese-Balinese percussion
Fulton Ferry Landing – 2 Old Fulton Street –
3-3:45pm – The Petr Cancura Band – sax drums and guitar trio
4-4:45pm – House of Waters – world music – hammered dulcimer
5-5:45pm – Dylan Rice – singer/songwriter
6-6:45pm – Voices of Gotham – a cappella choir
9-9:30pm – Cassis & the Sympathies – alternative pop
68 Jay St Bar at the corner of Jay and Water Street
6 & 9:30pm – The Strung Out String Band – Appalachian old time jigs
7pm – The Maybelles – "Up tempo soulful country"
8pm – Will Scott – Americana Hill Country Blues
9pm – Special Mystery Guest
–
**NOTE these performers are recipients of Brooklyn Arts Council Grants.
As always, MMNY takes place simultaneously with similar festivities in more than 300 cities around the world, all based on France's Fte de la Musique. Further details can be found at www.makemusicny.org.
Major support for Make Music New York 2010 is provided by the Stavros Niarchos Foundation, the NYC Department of Cultural Affairs, and the Cultural Services of the French Embassy. Media partners include Metro New York, Time Out New York, and WNYC.