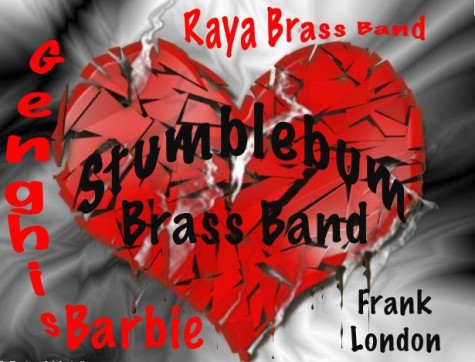 Valentine's Day!!!!
Grab your significant other or your fine, fine SELF and head down to the Lower East Side- kick it with us at the MERCURY LOUNGE!!! We've got an amazing line-up designed to escort you well into the evening and possibly into Feb 15th with ease, halarity, happiness, and BrASS.
Bring your lover, or show up with your fine Stag Self. Come hang out at the Mercury Lounge!!! –
INFO: http://www.mercuryloungenyc.com/event/6005
"I am in love with the Mercury Lounge. Seriously, I would marry the place if I could. I would marry it, have its babies, cook its meals and clean its house. We're talking a serious commitment, here."
– Jennifer L.
Member's of the Lonely Hearts Club WELCOME!!! (ps… Jennifer is not right in the head)
ALL- STAR line-up, Including:
7:00 pm, Frank London!!!! – http://www.franklondon.com/
Member of the Klezmatics, featured on HBO's SEX AND THE CITY, at the North Sea Jazz Festival & the Lincoln Center Summer Festival. Frank's performed with John Zorn, LL Cool J, Mel Torme, Lester Bowieπs Brass Fantasy, LaMonte Young, They Might Be Giants, David Byrne, Jane Siberry, Ben Folds 5…who HASN'T he performed with?!… and is featured on over 100 cds.
*************************************
8:00 pm, Raya Brass Band!!!! – https://rayabrassband.com/
"…There's been a buzz about this band lately and it's well-deserved…These guys took [the party] up a notch." -Lucid Culture
Raya Brass Band gleefully mashes up the music of Eastern Europe with funky American dance grooves.
**************************************
9:00 pm Stumblebum Brass Band!!!! http://www.stumblebumbrassband.com/
"You guys are not bums, you're bees, Stum-ble-beeeeeez!" – Bill Cosby
"The Stumblebum Brass Band's gritty, whiskey-soaked songs like 'Smokin' and Drinkin' rile up guests with Mardi Gras verve." – New York Magazine
************************************
10:00 pm, Genghis Barbie!!!! – http://genghisbarbie.com/
"The leading post post-feminist feminist all-female horn experience….visceral and unadulterated musical adventure"
"Evil Spice Girls with French Horns." -Velvet Barbie's Dad
"Thank you." -Mai Quang Vinh
"This is definitely the strangest group I have ever recorded."– Jeremy Tressler
"Goodbye Lady Gaga, Hello Genghis Barbie!" -James Gaffigan