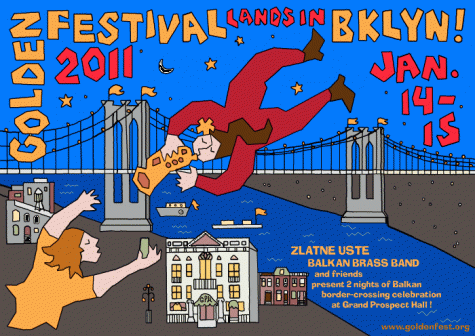 January 14 and 15, 2011
The Zlatne Uste Golden Festival
Two nights of Balkan music, dance & border-crossing celebration
Sponsored by Zlatne Uste Balkan Brass Band
The Golden Festival is New York's largest Balkan music event, with multiple stages, Balkan & Middle Eastern refreshments, Balkan arts vendors, as well as beautiful Balkan textiles on display. From international stars to local musicians, modern Balkan stylists to folk traditionalists, over 40 bands provide hours of ecstatic listening, dancing and partying.
Raya Brass Band will play BOTH nights. Friday night we're on at 9:05 pm and Saturday night we play at 12:30 am. Check out the complete schedule.
An incredible grass roots event. Both nights in Brooklyn at:
The Grand Prospect Hall
263 Prospect Avenue
Brooklyn, NY 11215
(718) 788-0777
Tickets now on sale!
Visit us on Facebook
Join our mailing list to get up date announcements about the Golden Festival
Preview movie trailer for a forthcoming independent film about Zlatne Uste and Serbian Brass Band Music
Grand Prospect Hall is the location for this year's festival (turn down speakers!)