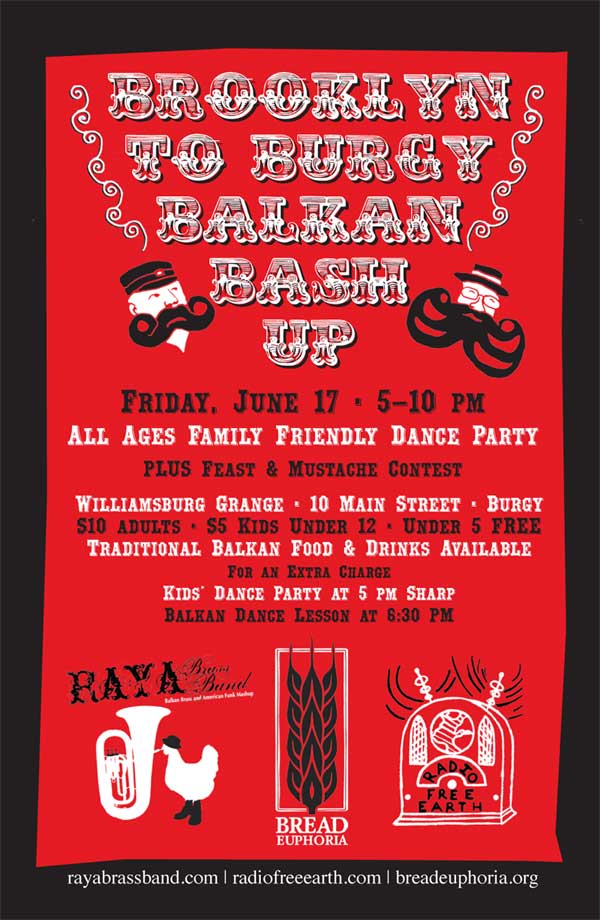 Raya Brass Band's going on a brief New England tour next weekend. We're kicking it off on Thursday, June 16 at the Vermont Jazz Center (http://www.vtjazz.org/) in Brattleboro, VT. We'll be sharing the bill with the As Yet Quintet (http://www.asyetquintet.com), whose music is steeped in jazz, Caribbean and Middle Eastern sounds. Unusual time signatures and keening, mournful melodies jam up against lively Caribbean forms and contemplative jazz, and it's seldom expected when their music takes a turn toward new territory.
The VT Jazz Center is located at 72 Cotton Mill Hl # 222, Brattleboro, VT. Cover is $15 at the door. Show starts at 8 pm.
Friday, June 17th brings us to the Grange Hall in Williamsburg, MA ( for a show with Radio Free Earth (http://www.radiofreeearth.com). Like some great pirate radio station in the sky, Radio Free Earth ignores boundaries to play the good stuff "they don't want you to hear" – familiar songs you've never heard before and songs you'll remember you'd forgotten. It's an all ages, family-friendly show with a moustache contest, so if you're in western MA and you're feeling hirsute, be sure to come out. The Grange is located at 10 Main St (rte. 9), Williamsburg, MA. $10 cover. 5-10 pm, with Balkan dance lessons at 6:30 pm.
Finally, we've got two shows on Sunday, June 19. The first is an afternoon show in the Syversen's backyard. Yes, our trumpet player's parents are having a potluck party in their backyard and we're going to play for it. Address is 537 Cambridge Tpke, in Concord. 3-6 pm, band plays at 4 pm. Bring some beer, bring some food to share and we'll play a couple sets of totally slamming music. $10 suggested donation.
Later on June 19 we'll head over to Atwood's Tavern in Cambridge for a Boston/Balkan hoedown. Atwood's is at 877 Cambridge St. Raya plays at 10 pm.
Of course, all of this will have a soundtrack provided by the ever-delightful, Balkan dance jams of Raya Brass Band. So, there's enough dates, we've got a little bit for everybody. Hope to see yous soon.
Related show