With Raya Brass Band, Slavic Soul Party, Veveritse and more!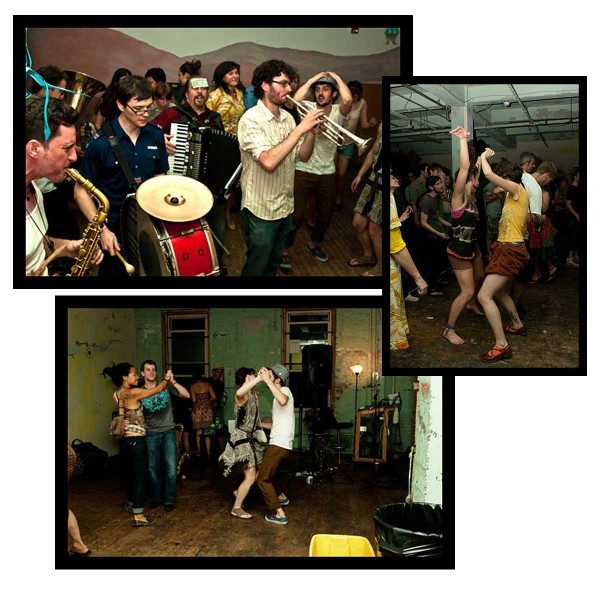 Time has FINally come!
* Slavic Soul Party!
* Raya Brass Band!
* Veveritse!
* DJ Stylus! Percussion/Horn Collabos with DJ Stylus!
* A rude boi-manned (well, Xavier Smith (oh shit)) Fresh Coconut Stand! with Cachaça (if we get our temporary liquor license approved)!
* Crepes!
Saturday, June 11 at 10:00pm
The Morgan
25 Bogart (on the corner of Varet–enter the music venue on Varet St)
Map: http://goo.gl/VttJd
Brooklyn, NY
Plus!
Roaring 20s lingerie erotica videos spliced with Rudy Ray Moore's finest work spliced with say lions climbing trees in Tanzania spliced with Microcosmos spliced with maybe Thunder Cats! Synced to the beat! Photo booth by Rob Berezowski! Brand-new, palatial, licensed, soundproofed (no worries about cops or neighbors) Venue! with Outdoor Space! and a fully stocked wine and beer bar! Across the street from the WILDLIFE loft (AKA Phil's apt)! You think I'm using too many bangs? If only you knew, I'm not using enough.
The perfect way to pop the cork of this ecstatic beast of a summer.
MORE INFO:
Venue: Get off at the Morgan Ave stop on the L. Take the Bogart St exit. Walk down three short blocks to Varet St, take a left, and the entrance is right there. I can't keep waxing poetic about the perfection that is this venue, so check the photos and my description (see the album comments) in this album: http://goo.gl/ScKP2
Timing: Bands go on earlier this time. Doors at 10, First band at 11.
Cost: $10 ahead of time: http://goo.gl/s6NzS – $12 at the door.
Facebook invite here.
Bands/DJs/Paparazzi/Vendors:
* Slavic Soul Party!
* Raya Brass Band!
* Veveritse Brass Band
* Self-proclaimed "Global Booty Medicine Man" DJ Stylus
* Phil Amos may do a brief set
* Photographer: http://www.Berezowski.com – His work at the last party
* Coconut Stand-manning Rude Boi (kind of)
Related show