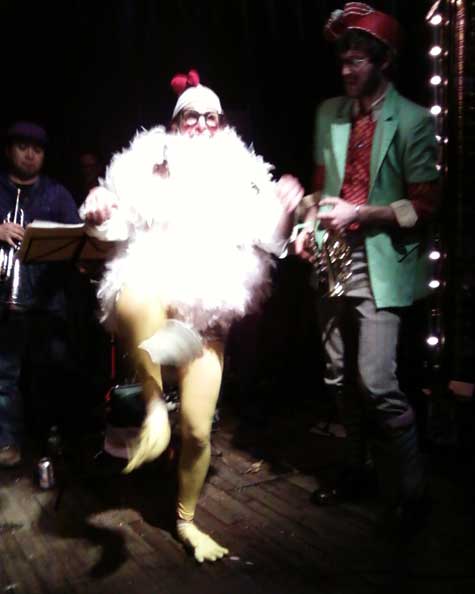 If we're lucky, Tania the Chicken will show up! Spotted here at Patty Farrell's killer Staggerback Brass Band show on Jan 9 at Union Pool. At right, JR Hankins of Veveritse is counting his chicken after it's hatched.
The PGFBBHAS is happening on SUNDAY AT DON PEDROS
If you can't make it to the Golden Festival, or you don't get enough brass there, RAYA BRASS BAND will be playing a post-Golden Fest show at DON PEDROS in Brooklyn on Sunday the 17th. We will be joined by VEVERITSE of Brooklyn, BLACK BEAR COMBO of Chicago and the infamous WHAT CHEER? BRIGADE of Providence.
The doors open at 8:30, music begins at 9, goes til 2am. $10
Don Pedro's is at 90 Manhattan Ave in Brooklyn(Bushwick/Williamsburg) 11206
http://www.myspace.com/donpedrobar