Not to be missed! 40 bands in two nights in 3 different performance spaces. Golden Fest 2010! Raya Brass Band plays at 1:30 am Saturday night/Sunday morning in the Golden Room – full schedule here.
http://www.zlatneuste.org
http://www.zlatneuste.org/au25.htm
http://www.brownpapertickets.com/event/91543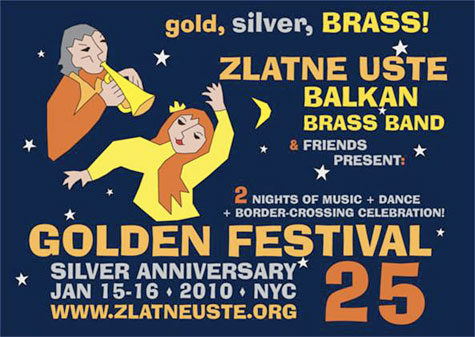 The Golden Festival is New York's largest Balkan music event, with multiple stages, Balkan & Middle Eastern refreshments, Balkan arts vendors, as well as beautiful Balkan textiles on display. From international stars to local musicians, modern Balkan stylists to folk traditionalists, over 40 bands provide hours of ecstatic listening, dancing and partying. An incredible grass roots event.
Both nights in upper Manhattan at:
Good Shepherd School
620 Isham (near 207th St. and B'way)
Manhattan, New York map/directions
· Tentative Schedule
· Directions
· Parking
· Tickets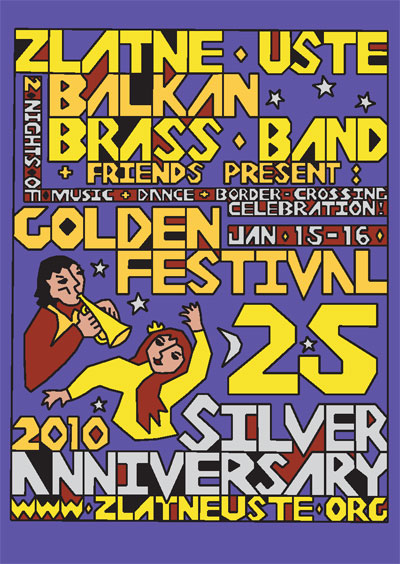 ALMOST COMPLETE LIST OF 2010 GOLDEN FESTIVAL SATURDAY NIGHT PERFORMERS FROM A TO Z:
Æ – Mountain songs from Appalachia, the Balkans, Caucasus Georgia, and Corsica – Golden Room – 12:10 – http://www.cdbaby.com/cd/aemusic http://www.aesings.com
Amir Vahab's Ensemble – Persian, Turkish Sufi and folk music – Golden Room – 08:20 – http://www.tanbour.org
Ansambl Mastika – Original Balkan-inspired dance music, aka New Balkan Uproar – Golden Room – 09:30 – http://myspace.com/ansamblmastika
Avram Pengas & the Noga Group – Mixed world music – Auditorium – 01:35 – mailto:nogamusic@yahoo.com
Bagad New York – Traditional dance music from Brittany, the Celtic region of France – Golden Room – 07:45 – http://www.bagadny.arvorig.org
Black Bear Combo – Mostly originals, drawing energy from traditional music from the Balkans, punk rock, and free jazz. – Golden Room – 03:20 – http://blackbearcombo.com
Black Sea Hotel – Balkan a'cappella – Golden Room – 10:10 – http://www.myspace.com/
Cherven Traktor – Bulgarian folk – Golden Room – 07:05 – http://www.gadular.com
Druzina – Bulgarian and Rom music featuring compositions and arrangements written especially for Druzhina by Ivan Milev – Kafana – 08:50 – http://www.myspace.com/druzinadancemusic
Eastern Watershed – Klezmer/Balkan via Pittsburgh – Auditorium – 06:00 – http://http://easternwatershed.org
GIPSYORK – Romanian gypsy dance music – Kafana – 11:10 – mailto:emilbizga@hotmail.com
GM GM Yuri Yunakov Ensemble – Bulgarian and Macedonian Romany (Gypsy) wedding music – Auditorium – 08:00 – http://http://www.rootsworld.com/rw/feature/yunakov.html http://www.symphonyspace.org/event/6039-balkan-gypsy-music-yuri-yunakov-band
Gogofski – Republic of Macedonia and thereabouts – Auditorium – 08:40 – http://www.dgviolins.com/Gogofski
Harris Brothers – Gypsy inspired music from Serbia, Bulgaria and Macedonia – Auditorium – 01:05 – http://www.myspace/harrisbrothersband
Italian Village Dance – Traditional Italian Village Music from Sardinia and Southern Italy – Auditorium – 06:30 – http://www.italianvillagedance.com
Ivan Milev Band – Bulgarian and Balkan folk – Auditorium – 11:25 – http://www.myspace.com/ivanmilev
Kadife – Traditional music from (mostly) Southern Albania. – Kafana – 07:40 – mailto:jarnana@gmail.com
Kagero – Japanese Gypsy rock out of Brooklyn. – Golden Room – 12:50 – http://www.kagero.com
Katun – Balkanesque via Michigan – Kafana – 01:30 – mailto:douglaslaneallen@gmail.com
Kavala Brass Band – Northern Greece and neighbors – Kafana – 12:25
Lila Quartet – Bulgarian and Macedonian songs – Golden Room – 11:30 – mailto:vlada@vladatomova.com
Lokum – Balkans, Turkey and Armenia via Vermont – Golden Room – 06:00 – http://www.myspace.com/lokummusic
Loretta Kelley – Springars and other Norwegian dance music – Kafana – 10:00 – http://http://www.fanitull.org
Lyuti Chushki – Bulgarian folk music via D.C. – Auditorium – 10:10 – http://www.lyutichushki.com
Meltemi – Traditional village music from Greece – Kafana – 01:00 – http://ensemble.meltemi@gmail.com
Merita Halili & Raif Hyseni Band – Albanian urban folk music – Auditorium – 09:10
New York Spelmanslag – Scandinavian – Golden Room – 09:00 – http://www.scandiaNY.org
Nikolay & Donka Kolev – Bulgarian folk – Auditorium – 09:50 – http://www.gadular.com
Novo Izvorno – Macedonian village music – Kafana – 11:50
Rakiya – Balkan Rom – Auditorium – 12:35 – http://www.rakiya.com
Ralph and Dean – Totally acoustic Balkan – Kafana – 02:00
Raya Brass Band – Northern Greek and Southern Balkans brass – Golden Room – 01:30 – https://rayabrassband.com
Romashka – Gypsy music for dancing and dreaming – Kafana – 09:20 – http://www.romashka.net
Scott Wilson & Efendi – Music of the Middle East, belly dance music – Kafana – 10:30 – http://www.ScottWilsonOud.com
Supruli – Polyphonic a cappella folk singing from Georgia – Golden Room – 10:50 – mailto:kavkasia@gmail.com
The Other Georgia – Georgian men's trio – Golden Room – 02:10 – http://www.theothergeorgia.net
The Rosen Sisters – A mix of line dances and couple dances – Kafana – 06:00 – http://www.myspace.com/therosensisters
Veveritse Brass Band – Especially inspired by the Roma brass bands of southern Serbia. Many arrangements of songs in this repetoire as well as original songs based on a variety of styles and traditions. – Auditorium – 12:05 – http://www.myspace.com/veveritsebrassband
What Cheer? Brigade – Luddite Hardcore in the style of Bollywood, the Balkans, Brazil, New Orleans, and American pop music. – Auditorium – 02:35
Which Way East – Balkan/contemporary – Auditorium – 02:05 – http://http://myspace.com/Whichwayeast
World on a String Band – Hungarian and Romanian style music – Golden Room – 02:50
Yale Slavic Chorus – – Kafana – 07:00 – http://http://www.yale.edu/ysc/
Zikrayat – Egyptian Music and Dance from the Golden Age of Egyptian Movie Musicals (1940's-60's) – Auditorium – 07:00 – http://www.zikrayatmusic.com
Zingeray! – A capella traditional Yiddish singing – Golden Room – 06:30
Zlatne Uste Brass Band – Serbian, Macedonian, Bulgarian Slavic and Romany brass – Auditorium – 10:40 – http://www.zlatneuste.org
Zlatne Uste Brass Band – "Golden Lips" – Kafana – 08:20 – http://www.zlatneuste.org
Zurli Drustvo – Macedonian – Auditorium – 07:30