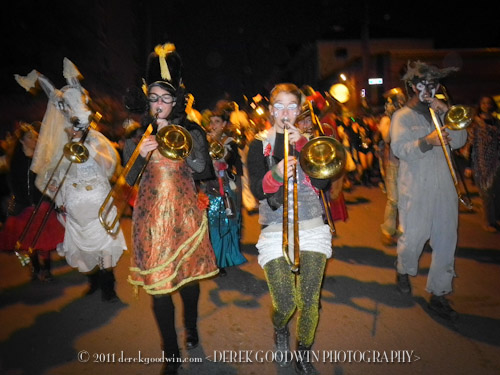 -Raya Brass Band (Brooklyn Balkan brass)
-Apocalypse Five and Dime (street band dance party pop)
-Mommy? (all Misfits covers only polka band!!!)
-Morgan O'Kane
+ more special guests yet to be announced!
Dance Party (to actual records, no less) afterwards w/ DJ Dusty Walker. Expect a mix of rare groove, Jamaican, Latin Boogalo, cumbia, and booty shaking beats!
@ C-Squat
155 avenue C (between 9th + 10th st) NYNY
Doors at 7pm.
Fundraising at the door! $7-$15 sliding scale. Does not slide below 7, but slides as far past 15 as you'd like to go. So slide on, generous sliders, slide on!
This show is a fundraiser for the legal defense of the 12 people arrested at the Eris Parade in New Orleans this past March. It is thrown by a group of musicians who were participating in the parade when the police shut it down.
For seven years the Krewe of Eris has rolled the Sunday before Mardi Gras. Musicians, artists, and puppeteers from all over the country travel down there every year to join creative forces with the amazing community of artists and musicians who live there. It is an unpermitted community parade with an open band that has been growing every year. This past Mardi Gras, the NOPD stopped the nonviolent parade and proceeded to wreak havoc by using tasers and pepper spray, manhandling attendees, and then arresting 12 people with charges which ranged from disturbing peace to resisting arrest to battery. One participant, a warm and quiet boy, was tased, his clarinet was broken, and his face was smashed so hard that he had to get corrective surgery for his broken cheekbone. For all of this, he got charged with battery of a police officer.
The next day, the police retaliated by closing the Iron Rail (the local anarchist bookstore and info shop) and Plan B (the bike co-op), simply because the people who ran those were also involved in the parade.
If you can't come yet are just yearning to support then visit www.eris12.org !!!!
ALSO!! if that's not enough to grab your attention: marching band mercenary Leslie Wacker is turning 30 this day so bring cake. Yes, there might be cake! Also, as we all know, the apocalypse is coming next year so who knows if she will get another party! We all want to dance to some brass with you before the world ends but more important than any of that! Back to your Krewe of Eris education + required reading…
Below are links to some articles and videos about what happened:
Report from NOLA.com
http://www.nola.com/crime/index.ssf/2011/03/nopd_reviewing_arrests_of_12_a.html
Local news

More video footage

A blog post
http://nolaslate.blogspot.com/2011/03/permitting-culture-crimes.html
First-hand account from one of 12 arrestees
http://neworleans.indymedia.org/news/2011/03/15776.php
——————————————————————-
Below are links to some video clips for what is about to happen:
Raya (http://www.youtube.com/watch?v=pWOqOeRF7Vo)
Apocalypse Five and Dime (http://www.youtube.com/watch?v=_8ZXsgGEki0)
Mommy?

+

Share:PostLinkPhoto