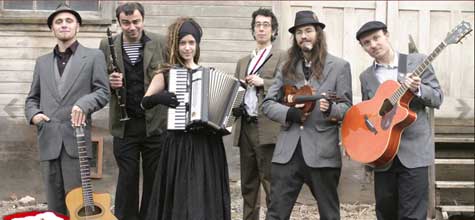 Sunday, March 28
Don Pedro Bar
90 Manhattan Avenue
b/w Boerum & McKibben
Williamsburg, Brooklyn
http://bit.ly/bjhcvr
Music from 8pm to 1am
$10 – No One Turned Away for Lack of Funds
This is gonna be a sweet night of dancing and music making with a wide variety of musical styles in one of Brooklyn's nicest dives. Yep, the Underscore Orkestra is in town, Frank London and Jessica Lurie and company are bringing their groovin Ethiopian sounds to Don Pedros, Snaps and Butt will be busting yer gut, and of course we'll play our Raya Brass Band hits including a few new originals by Greg, Ben and Don. This night of dancing will be capped off  by the tasteful and groovin DJ Dusty Walker who is just like icecream. He's sweet and goes straight to your hips.
Hope you all can make this one. Sunday night, March 28th.
Related show