RAYA BRASS BAND presents AN IMPROMPTU, OFF THE CUFF, FREE FORM CIRCUS, VAUDEVILLE SHOW AND MUSICAL PERFORMANCE ON THE CONEY ISLAND BOARDWALK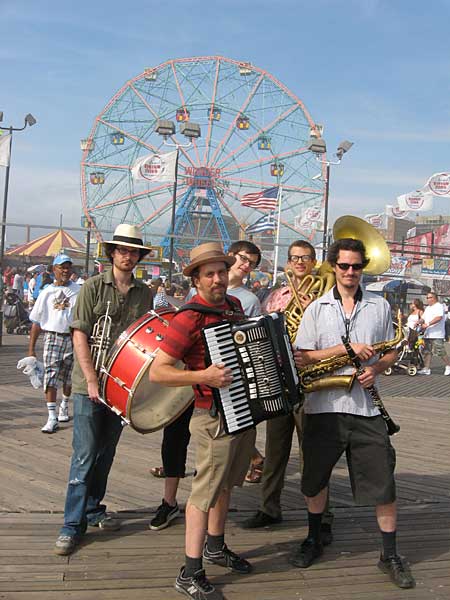 Calling all circus performers, contortionists, belly dancers, fat ladies and men, skinny little things, fire eaters, chariot racers, jugglers, clowns, magicians, pin-up girls and boys, mad hatters, red queens of both sexes, acrobats, hoopers, carneys, unicycle riders, stilters, lion-tamers, tight rope walkers, trapeze artists, popcorn sellers, showmen and women, mustachioed gents and ladies of the audience, dancing bears, elephants and monkeys! Raya Brass Band awaits you, ready to play, at the drop of your hand, the dreamy, frenzied and lilting and tilting music of Eastern Europe, Northern Greece and the Southern Balkan peninsula on the Coney Island Boardwalk for an impromptu show that will give all who show up and opportunity to strut their stuff for the good people of Brooklyn and visitors from around the world.
WHERE: Coney Island Boardwalk across from the Wonder Wheel. Map: http://bit.ly/dhAO7d
WHEN: Performance 1: Monday, September 6th, 2010. Arrive at 3:30 pm to check-in and prepare act. Show at 4 pm.
Performance 2: Saturday, September 18th, 2010. Arrive at 1:30 pm to check-in and prepare act. Show at 2 pm.
CONTACT: Matthew "Max" Fass, Accordionist, Raya Brass Band, 917-497-7852, rayabrassband@gmail.com
This event is sponsored, in part, by the Greater New York Arts Development Fund of the New York City Department of Cultural Affairs, administered by the Brooklyn Arts Council, Inc. (BAC)