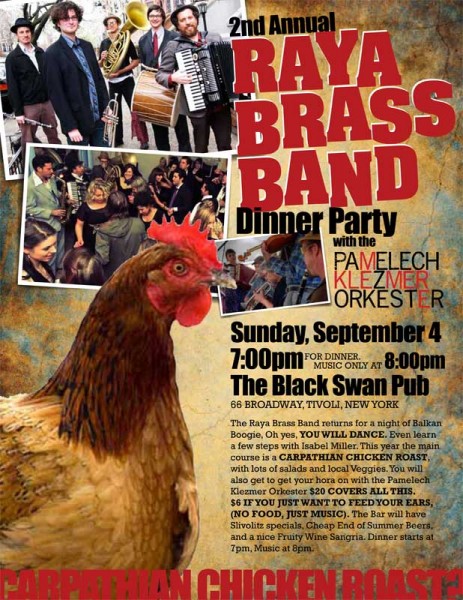 2nd Annual Raya Brass Band Dinner Party
with the Pamelech Klezmer Orkester
Sunday, September 4th
7 pm for dinner – $20
8 pm for music only – $6
The Black Swan Pub
66 Broadway
Tivoli, NY
Raya Brass Band returns for a night of Balkan Boogie, oh yes, you will dance. Even learn a few steps with Isabel Miller. This year the main course is a Carpathian Chicken Roast, with lots of salads and local veggies. You will also get to get your hora on with the Pamelech Klezmer Orkester. $20 covers all this.
$6 if you just want to feed your ears, (no food, just music). The bar will have slivolitz specials, cheap end of summer beers, and a nice fruity wine sangria.
Dinner starts at 7pm, music at 8pm.
Facebook invite here.