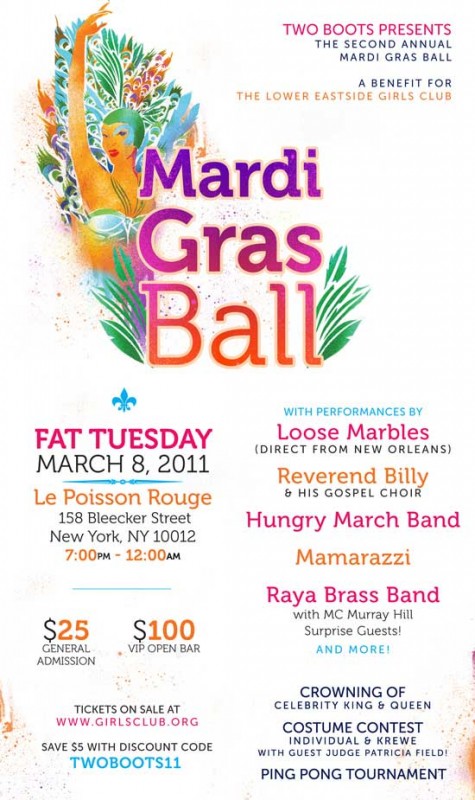 Two Boots Mardi Gras Ball – A Benefit for The Lower Eastside Girls Club
with MC Murray Hill, Krewe Costume Contest Judge Patricia Field, Coronation of Mardi Gras King Luis Guzman, Special Guest Laura Cantrell, Loose Marbles direct from New Orleans, Mamarazzi, Raya Brass Band, Hungry March Band and Reverend Billy
Tuesday, March 8 at 7:00pm
Raya Brass Band opens the party at 7 pm
http://www.facebook.com/event.php?eid=199844470028061
Le Poisson Rouge
158 Bleecker Street
New York, NY
http://lepoissonrouge.com/
BUY TICKETS HERE: http://bit.ly/mardigrastix
READ MORE ABOUT THE EVENT HERE: http://www.girlsclub.org/about/mardigras
The goal is to raise $25,000 for the Girls Club through ticket and raffle sales. The Lower Eastside Girls Club provides a place where girls and young women 8-23 can grow, learn, have fun, and develop confidence in themselves and their ability to make a difference in the world. By delivering strong arts, literacy, science, health and leadership programs we provide girls with the vision to plan – and the tools to build – their future. All Girls Club programs develop environmental, entrepreneurial and ethical leadership in the girls they serve.
Please note that folks can buy 3 raffle tix for $10 through the website and enter a chance to win a trip to New Orleans. You do not have to be present to win so this is a great opportunity for your fans to support a great cause without attending the event!
$25 General Admission Tickets:
Guaranteed entry and music all night!
$100 VIP Tickets:
VIP tickets include reserved seating, dinner and open bar until 10pm.
3 Raffle Tickets for $10:
Win a trip to New Orleans! Jet Blue airfare, 2 night stay at Le Pavillon and dinner for two at Brigtsen's. Plus a custom Two Boots list of Phil's Secret Spots For The Truly Adventurous Eater!
BUY TICKETS HERE: http://bit.ly/mardigrastix
READ MORE ABOUT THE EVENT HERE: http://www.girlsclub.org/about/mardigras
Don't forget to mention discount code TWOBOOTS11 to save $5 off each ticket.
BUY TICKETS HERE: http://bit.ly/mardigrastix
READ MORE ABOUT THE EVENT HERE: http://www.girlsclub.org/about/mardigras