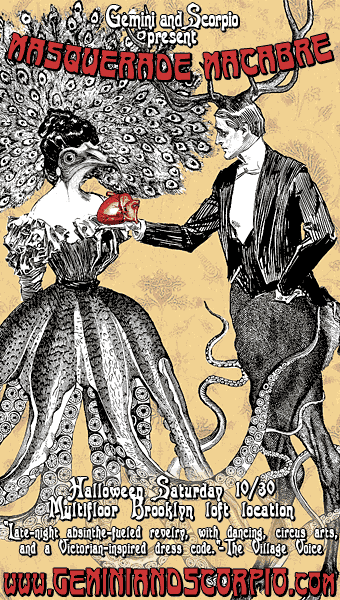 Rubulad and G&S present Masquerade Macabre
Halloween Saturday, Oct 30, 10pm-7am, $20, 21+
A gallery with giant arched windows and a two-floor historical building with soaring ceilings
Look for ticket seller here: 505 Carroll St bet 4th/3rd Ave, Park Slope/Gowanus, BK
R to Union (around the corner); F/G to Carroll (10 minute walk)
Rubulad and Gemini & Scorpio
cordially request your presence at
Masquerade Macabre
A marvellous and mysterious event…a Halloween celebration of the extravagant and the grotesque…an all-night spectacle of atmosphere, costumery and diverse entertainments…an explosion of live music, dancing, dark arts, fire and late-night revelry, snake-charmed into an absinthe-fueled early-morning speakeasy.
With: Alien monster puppet creature invasion by BIG NAZO with brass accompaniment by Extraordinary Rendition Band members…Exotic Balkan rhythms by Raya Brass Band…Victorian music box mix, toy piano mayhem and Jank! circus techno by Sxip Shirey…Virtuosic human beatboxing by Adam Matta…Two demonic dance floors by DJs Dave the Spazz, Joro Boro, Reaganomics, Blackkat, Shakey & Stylus.
Plus: G. Scopitronic's non-stop classic horror film fest…Fantastical face & body painting by Painteresse Elyzabeth…Mystifying silver film likenesses produced in front your very eyes by Tsirkus Fotografika…Spine-tingling art by Blood Dumpster Collective…Light circus extraordinaire by Norm Francoeur…Frighteningly accurate fortunes told by practitioners of the occult arts…Bone-chilling collections in the cabinet of curiosities.
And for the daring few: Absinthe and other mind-altering potions by The House of St Eve (yes, t.h.o.s.e. cocktails…).
http://www.geminiandscorpio.com/events.html
http://www.facebook.com/event.php?eid=122141797840217