Join Hungry March Band and Raya Brass Band this Sunday night at HORNS FOR HAITI.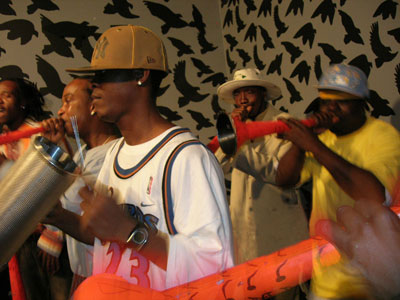 Guest performances by Djarara (Haitian rara street band based in Brooklyn), Mikerline Afro Haitian Dance + Drum Troupe, and dancer/choreographer Peniel Guerrier.
Featuring a special moment with Rev. Billy + The Life After Shopping Gospel Choir.
PLUS DJ Sentz: Brooklyn-based and old school.
HORNS FOR HAITI
Sunday, Jan. 24, 2010
The Living Theatre
21 Clinton St., Manhattan
Google Map: http://bit.ly/8xdRQd
Downstairs
Doors at 7p
$20 minimum donation
Open Beer Bar (donations encouraged here too)
SET TIMES
7:00-7:30 DJ Sentz
7:30-8:10 Rude Mechanical Orchestra
8:15-8-25 Mikerline
8:30-8:40 Julio Jean
8:45-8:55 Peniel
9:00-9:10 Mikerline
9:15-9:35 Rev Billy + the Life After Shopping Gospel Choir
9:40-10:15 Raya Brass Band
11ish-11:30 Djarara
Jam out dance party or DJ dance party
All money to benefit Haiti's Earthquake Disaster victims.
50% to Doctors Without Borders + 50% the event's Haitian performers with family in Haiti right now.
This benefit is organized by HMB's very own dancer extraordinaire, Libby Sentz.
She's put together a night of badass brass, Haitian drumming, and ample dancing in support of our Haitian brothers and sisters.
Men anpil, chay pa lou.
[With many hands the load is lighter.]
Facebook Invite: http://www.facebook.com/libbysentz?ref=name#/event.php?eid=263520911372&ref=mf
Related show